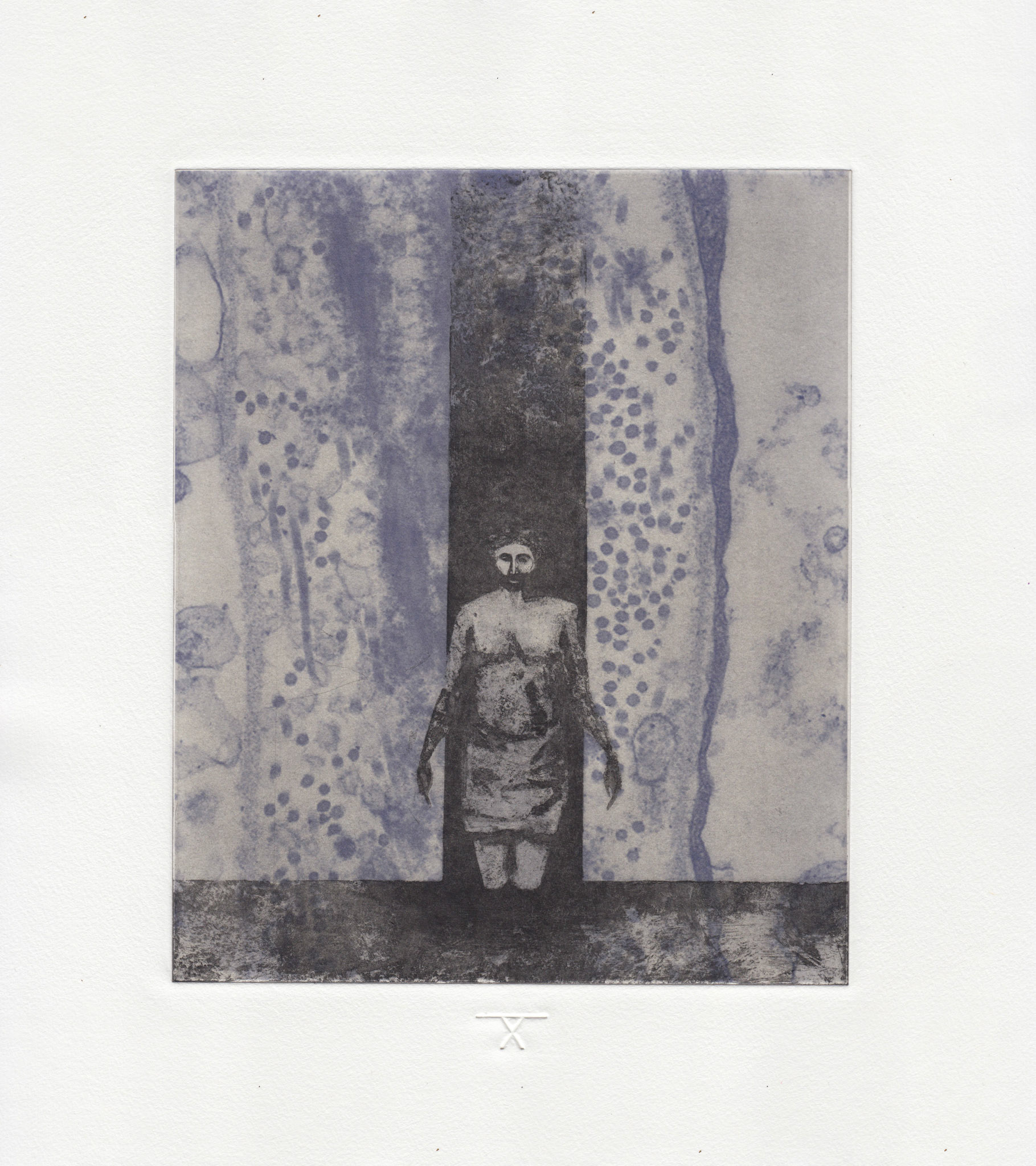 Via Dolorosa, 2020. Etching, archival inkjet, chin collé, with embossment, suite of fourteen prints, variable dimensions. Edition of 5.
Via Dolorosa is a 4' tall by 16' wide installation of prints created for the chapel of the new SSM Health Saint Louis University Hospital. The chapel is the spiritual center of this new, state-of-the-art medical and research facility. The client requested imagery that expressed their mission "to reveal the healing presence of God through exceptional healthcare services."
The fourteen prints vary in dimension, combine traditional etching techniques with digital printing, and are created with etching, archival inkjet, chin collé, and embossment. Intense colors provide a welcome accent on a large neutral wall and complement the color scheme of a stained glass window on the opposite wall.
Via Dolorosa, meaning "sorrowful way" or "way of suffering," refers to the path that Jesus walked on the way to his crucifixion. The fourteen stations depict the chief scenes of Christ's suffering and death. Narrative is expressed in color transitions from red to violet across the suite of prints.
Each print combines a scene of Christ with an image sourced from the archives of Saint Louis University and SSM. These include diagnostic medical images such as X-rays, current research images made with electron microscopy, and the blueprints for the original Firmin Desloge Hospital.
There's a person and a history in each image—a child who falls from a tricycle, a man shot in the spine, a woman losing vision to macular degeneration. In this way, the local community and its afflictions become the landscape in which Christ's suffering and sacrifice unfolds. To the patients and caregivers that visit the hospital chapel, these stations provide a reminder that anyone suffering is united with Christ.